How Could He Decide So Fast You're Not The One . . .
He never really was into you
He just wanted to hook up. (Oh, stop sobbing. You've done it, too.)
He found someone he's more into
It happens. Perhaps that lovely coworker he has been pining for suddenly left her boyfriend, whom she was just not that into.
He is tired of being dragged to church…
…and malls and family reunions and baby showers.
Your friends and family members frightened him
Maybe he sees too much of your mother in you already.
His friends finally talked him into leaving you
They whined, complained, and poked fun at him because, since you came around, he can't come out and play after dinner.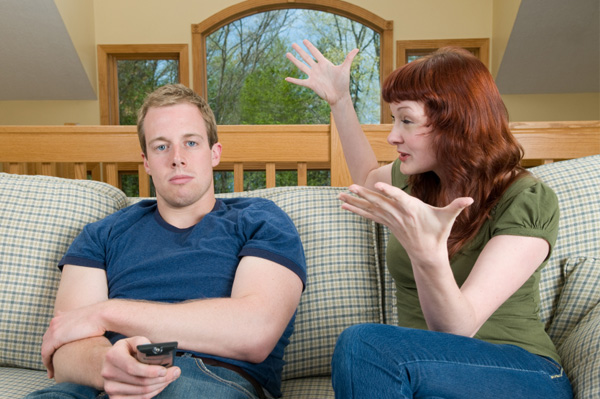 You nag… a lot
Anytime you ask him to do something more than twice, it's no longer a reminder, it's nagging. Nothing makes a man want to run out of the home screaming more than nagging (excluding the obvious: A bad call during a playoff game or accidentally catching his Willy in his zipper).
He's a slob and you're neat, or vice-versa
You don't realize this until you share a hotel room for a week. Then, the unmade bed, clothing pile and missing toothpaste cap are sufficient reasons to check out of both the hotel and the relationship.
You cost too much
Hey, times are tough. He has to cut corners. His hand does not require expensive foreplay such as roses, sushi and La Crema chardonnay. His accountant advised him to rebuild his credit by sticking to solo nights in a dive bar with his nutritious dinner of happy hour draft beer and popcorn.
You are not the same woman you were when he met you
Remember that sexy number you were wearing? Those high boots with your designer jeans tucked inside them. That pink lace thong. The plunging neckline. Where did they go? Yes, you look cute in sweatpants, flip-flops and a trucker cap, but then again so does his uncle.
You started rationing the cookie
You used to get busy all the time:In the car, on the kitchen counter and in the hotel Jacuzzi. You used to initiate. In fact, according to the police log, you had orgasms loud enough to register on the Richter scale. Now, instead of changing positions, you change the channels. He misses those days when you used to fetch the sex towel.
It's not so bad. Don't be embarrassed. You, too, can learn from this or at least become more skilled at faking it. But just accept it — he's just not that into you.